The Colosseum, Roman Forum - Ancient Rome in 3hrs Guided Tour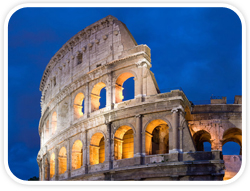 This walking tour takes you through the great ruins of the Roman Forum, once the lively centre of "The Eternal City"

Walk the footsteps of the Emperors and let our guide make sense of this sprawling archaeological site filled with ruined temples, Triumphant Arches and the house of the infamous Vestal Virgins.

Our guide will also take you on a visit to one of the 7 wonders of the world... "The Colosseum".

Once inside you will be regaled with stories of Gladiator fights, blood thirsty battles and find out exactly what happened to the missing parts of the Colosseum!

From Romulus and Remus to the height of the Roman Empire, hear the stories that made Rome the "Caput Mundi"

Our Regular Price
Limited Period Offer
Adults
€35
Students
€30
Childrens up to 12
€20
Tour description
Highlight of the tour
Colosseum - Arch of Titus - Imperial Forum -Temple of Caesar - House and Temple of Vestal Virgins and much more...

Tour Category
Semi-Private. Maximum 15 people - Walking Tour
Tour Times
- March 2010: 1pm
- April - Sept 2010: Mon-Sat 9.15am- Sundays 3pm
- Oct 2010-March 2011: Mon-Sat 9.15am- Sundays 1pm
Please Contact Us for other available dates.
Tour Duration
2.5 - 3 hs
Meeting Point
Near the Site. Full details and Map provided in Confirmation e-mail.
Entrance Fees
€12 adults - Not included
€ 9 Student - Not included (26yrs or under with Valid EU student ID- More Info)