Private Vatican Tour "Highlights" - Skip The Lines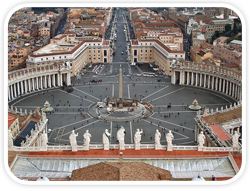 Private - (3 - 3,5 hrs.)


We like our customers to build a rapport with their guide to ensure they get the maximum out of their time in Italy.

All our Excellent English Speaking Guides are some of the most experienced and professional in Rome and the Vatican City.

A Completely Understandable and Enjoyable Tour in your own Language.
"A guarantee of a First-Class Guiding Experience".

Tour at "your own pace" and enjoy the relaxed one on one time with the guide.
This tour has Priority Skip the Line Entrance
Tour Description
Highlight of the tour:
Vatican Museums: The Belvedere Palace and Pinecone courtyard - The Apollo Belvedere - The Laocoon Group - The Greek Cross Room - Gallery of the Candelabra - Gallery of the tapestries - Gallery of the Maps - Works of Raphael -
Sistine Chapel: Michelangelo's Frescoes. - Last Judgement - etc..
St. Peter's Basilica: Orientation and Explanation of the Basilica - View of Pope's Residence - St Peter's Square - Swiss Guards etc.
Tour Category
Walking Tour
Tour Times
Avail. every day except Sun. and Vatican Holidays.

Tour Duration
3 - 3,5 hs
NEW***

Promotion offer- Buy a private tour as a set itinerary. Don't pay by hour!.

Enjoy the privilege of having a private tour at a set rate and not by hour. A set itinerary with all the must sees without watching the clock or being surprised by extra fees at the end of the tour. Enjoy the one on one time with the guide at a relaxed pace.
Private Vaican Tours "Highlights" 3 - 3,5 Hours Prices are as follows:


Number of Pax
Total Price 3 - 3,5 Hrs.
1- 6 pax includ
Total €240 *Special Family Promotion
7-14 pax includ
15-30 pax includ
* Entrance Fee not Included
** Audio System Compulsory after 5 people. Rental fee of €3 per person is not included in the cost of the tour
Entrance Fees VIP (Skip The Line)
- Adults: €20
- Students: €12 (Under 26 with Valid Student ID) More Info
- Children: €12 (12 or under)
- Childrens 6 years and under: Free


Meeting Point
Very close to sight provided at real time with "automated confirmation e-mail" (e-ticket) along with printable map and all relevant information you need for your tour. More Info
Or you may choose to meet your guide "at your designated meeting place".Eg. You wish to meet your guide at your Hotel. (if located within Rome City Centre only).
Please note that if you choose to have your guide meet you at your Hotel the charges incurred for this service are extra €70.
Please also note that the cost of all transport to and from sites when accompanied by your guide is EXCLUDED from tour price along with entrance fees.
For Private Rome Tours of over 30 people please contact us for pricing.
For all Private Rome Tour Bookings a deposit of €50 must be paid.
The Deposit will be DISCOUNTED from total tour price at the time of the tour.
Minimum Booking Time 48 hrs in advance.

All itineraries are available as a Private Rome Tour.
Contact us for suggestions and ideas on how to make the most of your time in Rome depending on your interests.

If you need more information please contact us. We are happy to help you !